Open the curtains, open up to the world!
Our client made the unfortunate move of falling down the stairs, some 2 years ago.
Of course her life changed drastically due to an impartial spinal cord laesion at C5-6.
In some ways her life seemed to get smaller and smaller, literally in this case. As she did not made much changes in her home, the home became fuller and fuller.
The bed came into the living room, the home extension became a partial bathroom, the wheelchairs took up space, and instead of taking some action to create more space, more and more things helped only to make the place feel more crowded.
Until today...!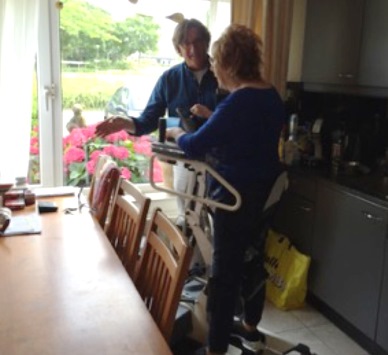 Our client had been trying out the Struzzo standing hoist during an assessment. It went well but there was a BUT....
The second time the physiotherapist took another angle of approach. As the client was clearly very able to stand and drive and do her transfers independently, and thereby get back some of her life, the space (or the lack of it) seemed the issue or rather the obstacle.
At one point the therapist went to the kitchen window, he abruptly opened all the curtains and said to the client: 'Come here..!" " What do you see..?" " There is a world out there!" "Do you see it?" Standing in front of the window, the curtains open, the lady looked with new eyes into her garden, the street, people passing by.. The therapist kept on describing everything there was to be seen, IF ONLY, she could stand, open the curtains and look. And place herself in this position, which she clearly could do with this new autonomous hoist.
It appeared that the lady had been living the last 2 years on 2 square meter, sitting in her wheelchair most of the time, on the same spot, in her non-adapted house.
Sometimes, it seems, we all need someone who opens the curtains for us......
It was a wonderful moment.
With permission of physiotherapist Huub Bozon, and mrs van Deursen,
Helmond the Netherlands.