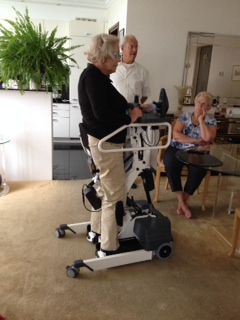 Never too old to claim your 'standing' life !
Are people ever too old to start working with a Struzzo?
Very often we hear that people are being told by others, just comply with sitting in your wheelchair, nothing is going to change anymore, who bother with other supporting aids, they are too expansive anyway...
This can be said sometimes by family members, doctors, therapists , all with the no doubt good intention to let the person in the wheelchair come to terms with their situation.
But...there are other people as well who jump on the occasion when it presents itself to them, sometimes literally.
Meet Mrs Moonen, her age is 73. She has been diagnosed with MS 20 years ago. She has done all she could in her life to stay as well as possible, by exercizing, therapies, and a positive outlook on life. With help of a devoted husband she is a delight to meet.
She is on Struzzo twice a week with guidance of therapist and now would love to expand the usage.
Coming at her home for the assesment, she literally jumped on the seat of the Struzzo and was on it before I knew it. Why? Because her friend was there, and she was very keen to show herself standing. Another friend turned up (more cups of tea for the husband to arrange..) and her eyes were wide open from the surprise of meeting her lady friend standing and driving around through the living room.
When asked by her friend what it was like for her to stand, Mrs Moonen said:' It feels great to feel the earth back under my feet'.
So simple, and yet so fundamental.
Who is ever to old to reclaim his or her standing life, with both feet on the earth?
For Mrs Moonen and all who like to feel the earth under their feet, remember the song
 I Feel The Earth Move - Carole King -